Ryan Zadrazil - Joins the Team

Fast Forward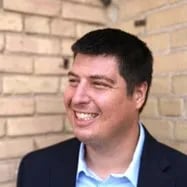 Ryan Zadrazil, Business Development Manager, joins the Fast Forward team, another addition to the Kearney area technology startup.
Fast Forward (formally Snappy Workflow) uses patent pending camera systems and computer vision to automate the inspection & line patrol of utility powerlines. Validated in a 2022 pilot program, this technology has the scalability to patrol an entire utilities system in just a few weeks, directly reducing power outage and wildfire potential.
Ryan brings years of experience in sales and business development. After his role as an outside sales representative, he quickly found a love for sales. He also attended school at Lakeland University earning a degree in Business Administration.
When out of the office, Ryan enjoys spending time with his family. Fall is his favorite time of the year as he enjoys the autumn weather. "I am excited to join the Fast Forward team. With my extensive experience in sales, I'm ready to share my knowledge and continue to grow as a salesperson," said Ryan.
Dusty Birge, CEO of Fast Forward said, "Our momentum in developing thermal inspection technology will help electric utilities and municipalities "Fast Forward" their operations to a more sustainable inspection and maintenance model for the ever-growing infrastructure. Utilities are finding it fascinating how much money we can save them on inspection patrol."
Learn more about Fast Forward, HERE.