Local Entrepreneur Highlights Another

Fast Forward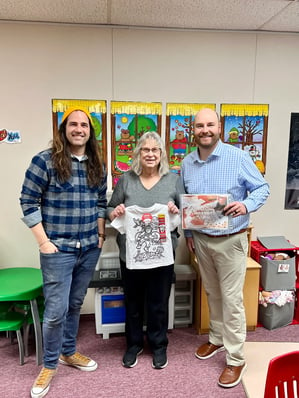 Local Kearney entrepreneur Dusty Birge, CEO of Fast Forward, highlights another local entrepreneur Chais Meyer of Doodle Tees, hoping to draw attention to the growing startup community in central Nebraska.

Chais and Dusty are two of Kearney's local entrepreneurs, both with multiple startup experiences.

"Startups are essential for a growing community. Eastern Nebraska has done a great job of building their atmosphere to support startups. Sometimes I feel like a fish out of water in Kearney, and I've sought out a network of peers that want to help grow central Nebraska and provide new opportunities for job seekers," said Dusty. Chais said, "I appreciate Dusty highlighting our local business and really appreciate those that focus on doing business with us locally."

Dusty chose to highlight Doodle Tees because of the creativity behind the idea, and it's something that will stimulate creativity amongst our most precious youth. It's a really fascinating idea, those with creative kids should really check it out! Dusty donated an order of shirts to a local Kearney preschool.

Fast Forward is a Kearney NE startup, building technology to prevent power outages and wildfires by using vehicle mounted inspection cameras and artificial intelligence software.
Originating out of an NMotion accelerator, Fast Forward has been awarded multiple grants from the NDED and secured over $1M of funding during the last 12 months that was used to test the technology during a 2022 pilot program. "Many of the issues we identified for the utility were components in a pre-failure condition, and they were able to proactively make repairs and prevent an outage. We are now scaling nationally and hiring locally, building one of the most advanced inspection methods for the electric utility industry," said Dusty.

Startups are important to a community because they bring an influx of capital and business opportunities, create jobs, and spur innovation. They also bring an entrepreneurial spirit that can be contagious and can help drive economic growth and development. Furthermore, they can help bring new ideas and technologies to the local community that can have a positive impact on the lives of citizens.
Fast Forward
Dusty Birge, CEO