Kearney Grand Opening Prevents Wildfires

Fast Forward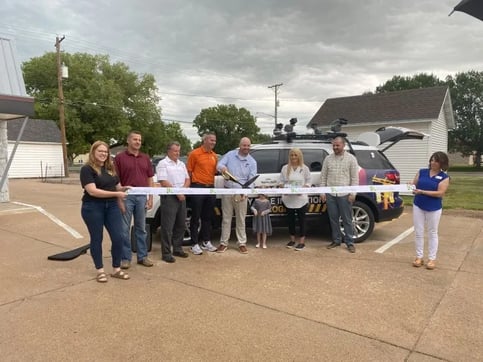 The Kearney Area Chamber of Commerce recognized Fast Forward during their Ribbon Cutting and Grand Opening in Kearney, Nebraska on 7/14/2023. Locals flocked to the event to learn how technology from this local startup is preventing power outage and wildfires for electric utilities.
When electrical components fail, they emit sparks that can fall to the ground and start fires. Fast Forward is building technology to automate the inspection of powerlines, identifying these components before they fail. Validated in a 2022 pilot program, utilities saw immediate return on investment when repairs were made on hundreds of structures in Nebraska.
Watch the Ribbon Cutting on Facebook: HERE
Fast Forward CEO, Dusty Birge said, "By doing the inspection more frequently, we can catch issues before they cause an outage and directly prevent the wildfire potential all together. The challenge of doing this in the past has been cost to implement and lack of technology. We've resolved this and are now scaling nationally and are super appreciative to have the communicate and the state of Nebraska's support!"
Learn more about our technology here >>>