Optimized at Scale

Fast Forward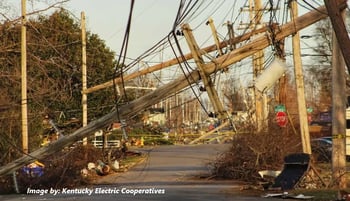 The US electrical grid is the largest interconnected machine on earth, yet it only represents about 15% of the global powerline installed base. Some estimates total nearly 6.5 million miles of existing powerline in the United State, with government proposals to triple its size by 2050!
"This this 130-year-old aging machine, combined with disasters and new installs, this is a formula for future reliability challenges unless maintenance processes are improved says," CEO Dusty Birge. He says, there are a lot of companies trying to automate the data analysis piece, but few trying to automate vehicle based capture...so that's what we're going to perfect.
Dusty took his idea to a local pitch competition and won 3rd place at a local event in Kearney NE, the Big Idea sponsored by UNK. His idea gained so much traction, that he's assembling a team of industry experts to build out a business of scale that is capable in getting ahead of the maintenance demand curve. Curtis Kayton and Ben Cook are his first 2 resources that have been tasked with developing industry changing technology.
Dusty said, "As it relates to maintenance documentation and optimized decision-by-data, I believe making existing processes exponentially easier and faster, will enable utilities to be most effective. At scale, our technology will improve the inspection and patrol interval used for decades and likely not incur an increase in rates for the consumer. So, I'm starting with optimizing some of the longest standing and most manual habits in the utility workflow."
Snappy Workflow is conducting limited pilot tests in 2022 to validate key aspects of their technology. To see if a program exists in your area, see the form here.